Retreat weeks
at La Roseraie de Sacha, France
Retreat weeks
The retreats on La Roseraie are almost ongoing, and begin on Sundays. You can come 1, 2, 3 weeks, or longer. Contact Marcelle for information and bookings.
Dates 2023
March 26th - June 4th
June 18th - August 13th
Below you will find the retreats with a special theme. During these special retreat weeks there will also be meditation and satsang.
Special shaman-week with Roos
FEBRUARY 26st – MARCH 5th
Dear All,
In October we will meet in the world of the shaman.
It is a privilege for me to be at La Roseraie with its exquisite nature.
Together we will perform ritual that is in alignment with all who are there. Through sound, a specific dimension will be invoked, for example a healing dimension. The objects placed in the ritual are related to spiritual masters, to nature, to dimensions of light. Bring an object that you would love to have empowered in the ritual. Also bring your drum!
I look forward seeing you.
Roos
Journey into the world of nature spirits with
Tanis Helliwell
MAY 21st – 28th
Tanis is a mystic and deep seer who opens us up to other voices, other realms.
My work is to travel round the world and meet with elementals in all countries who want to work as equal partners with humans. Nature spirits or elementals, as they are also called, exist throughout the world in all countries and cultures. They are the elves, goblins, brownies, leprechauns and what are generally called "the little people" in folk legends. They dwell in natural places in old forests, running brooks, deep oceans and high mountains. In some cultures these beings are well known and in others almost lost or forgotten. The Maori of New Zealand call them the 'people of the mist' and in Japan they are called 'kami'.
This week Tanis will bring you into the astral realm and introduce you to:
The world of elementals.
Hybrids and various possible earth incarnations.
Self-healing with the body elemental.
We will meet for 4 days for 2-hour segments. Each of the 2-hour topics will include a talk by Tanis, an experiential guided visualisation, and time for questions.
Tanis Helliwell is well-known for her books on Nature Spirits:  Hybrids, Manifest Your Soul's Purpose, Decoding Destiny: keys to mankind's spiritual evolution, Summer With the Leprechauns: The authorized edition, Pilgrimage with the Leprechauns, and Embraced by Love. https://www.tanishelliwell.com
Guru purnima week
JULY 2nd-9th
Many traditions worldwide celebrate the full moon in July as the moon of the spiritual guide, or guru.
Guru Purnima, as it is known in India, is a day of gratitude for all those who light our path and endlessly inspire us to realise freedom.
We enjoy this with ritual, prayer and lots of joyful festivities.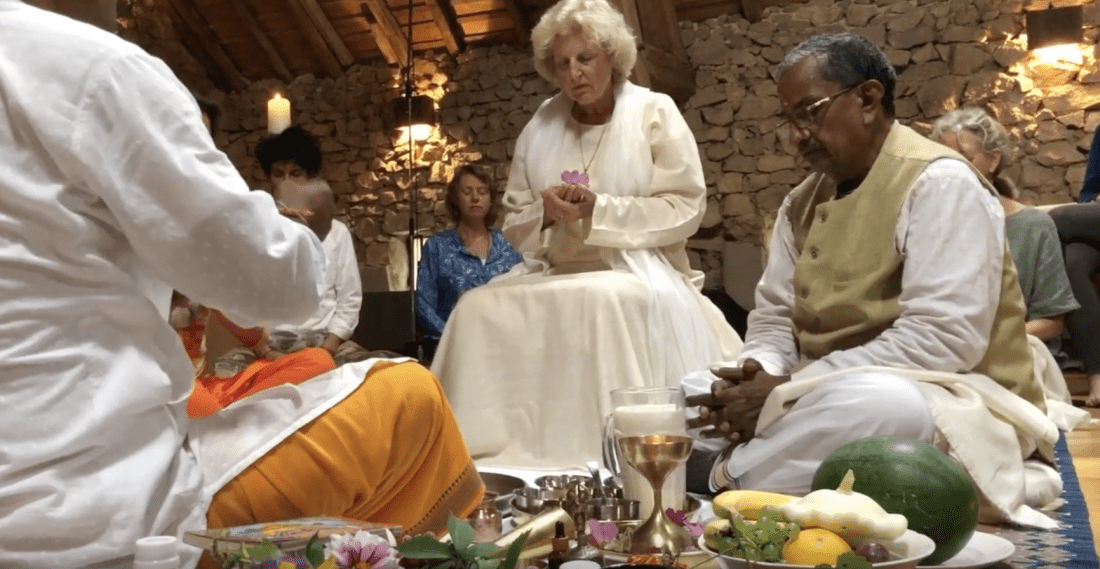 Havan week with the pandits from Sacha Dham in India
JULY 16th-23rd
This week Trtipathiji and Ashok will visit La Roseraie de Sacha again. They are pandits in Sacha Dham, the ashram of Maharajji in India. They have been offering fire ceremonies for many decades.
It is such a privilege that, once more, we will receive the power, profundity and blessings of their fire ceremonies in La Roseraie de Sacha.
Would you like to come to La Roseraie de Sacha?
Please contact Marcelle to make good agreements in the light of the latest news.
Satsang & retreats
AGENDA